News:
Press for the recent Menu for Mars Kitchen exhibition includes the Huffington Post, Food & Wine Magazine, Popular Mechanics, the Brooklyn Paper, and others.
Awarded a New York Foundation for the Arts Fellowship in Interdisciplinary Work.
New book: YOU ARE HERE
Recent, current, upcoming activities: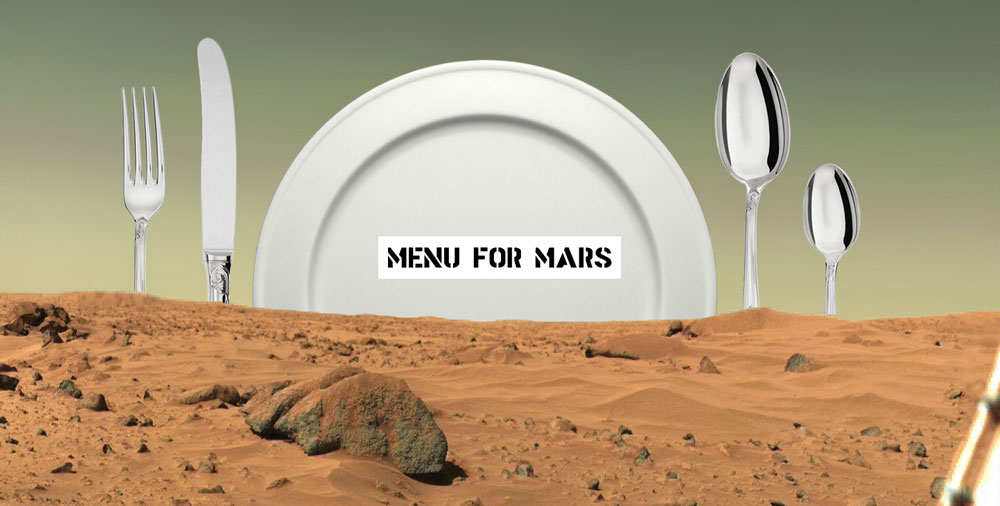 Co-organizing, with Douglas Paulson, Menu for Mars Kitchen, The Boiler, Brooklyn, NY, May 29th – June 20th. The Menu for Mars Supper Club will construct an analog Mars kitchen to investigate the future of food on Mars. From May 29 – June 20, the Menu for Mars Kitchen and surrounding habitat will be open to the public, and visitors are invited, alongside special guests, to cook using Mars-feasible ingredients. Dishes will be documented, sampled, evaluated, and vacuum-packed. At the exhibition's end, the prototype dishes and a summary of findings will be sent to NASA to augment their preparations for colonizing Mars.
Artist-in-Residence, Cannonball, Miami, FL. November 9 – December 15, 2015.
Teaching workshop course, Coptic Bind Everything, at Arrowmont School of Arts and Crafts, Gaitlinburg, TN, 22 – 25 October 2015, and related work shown in the 2015 Instructor Exhibition, Sandra J. Blain Galleries, Arrowmont School of Arts and Crafts, Gaitlinburg TN, May 18 – August 22, 2015.
Co-organizing with Alexander Campos, /mit ðə detə/: Source Materials Visualized, at the Center for Book Arts, New York, NY. July 8 – September 19, 2015. Two roundtable events with the exhibition: August 19 and September 16.
Type of Abstraction, Key Projects Space, 9 – 24 May, Opening reception May 9th, 3 – 5 PM
Six Artists Etching, Shoestring Press, 663 Classon Ave, Brooklyn, NY, May 1 – 31, Opening reception May 1st, 8 – 11 PM. Facebook event info
Then and Now: Ten Years of Residencies at the Center for Book Arts, New York, NY.  17 April – 27 June
Photo Book Works, Abecedarian Gallery, Denver, CO.  27 March – 25 April 2015
CODEX Exhibitor, Richmond, CA. 8 – 11 February 2015
Reading Room, Owens Art Gallery, 61 York Street, Sackville, New Brunswick, Canada. 9 January  -  8 February 2015
OCAC Artist-In-Residence Exhibition
Oregon College of Art and Craft Campus, Hoffman Gallery, Portland, OR. 4 December 2014 – 27 January 2015