Now & soon:
Moon Arrow included in "Matthew Day Jackson in conversation with space-program engineer Don Eyles: Commemorating the 50th anniversary of the moon landing," Ursula, Hauser & Wirth, New York, NY,  Issue 3, 10 June 2019
Sonic Planetarium, Present Company, 254 Johnson Avenue, Brooklyn, NY 11206. Open to the public: June 15-16, June 22-23, July 6-7. Reception: Sunday, June 23 | 4–7pm
Bookworks, Tisch & Koppelman Galleries / Aidekman Arts Center, August 22 – December 15, 2019. ( organized by Dina Deitsch with Chiara Pidatella, Emily Chun, and Kevin Vogelaar)
Coordinates: Maps and Art Exploring Shared Terrain, David Rumsey Map Center, Stanford University, Stanford, CA, April 25 – September 30, 2019. (co-curated by Emily Prince and David Rumsey)
Moon Arrow – long duration in the exhibition Chronos Cosmos: Deep Time, Open Space, Socrates Sculpture Park, May 5 – September 3, 2019
Wave Farm Presents: Radio Opera and Artist Demos, Friday April 5, 2019 12-5 PM; Heidi Neilson artist talk 1:30 – 2:30 pm, at the Aidekman Art Center, Tufts University Medford Campus
Three satellite transmissions-related works, Sonic Planetarium: Satellite Pipes, Go GOES Radiotelescope, and Satellite Prints are featured in TuftsPUBLIC: Wave Farm-in-Residence, Remis Sculpture Court – Aidekman Arts Center, Medford Campus, Tufts University, August 29, 2018 – May 2019.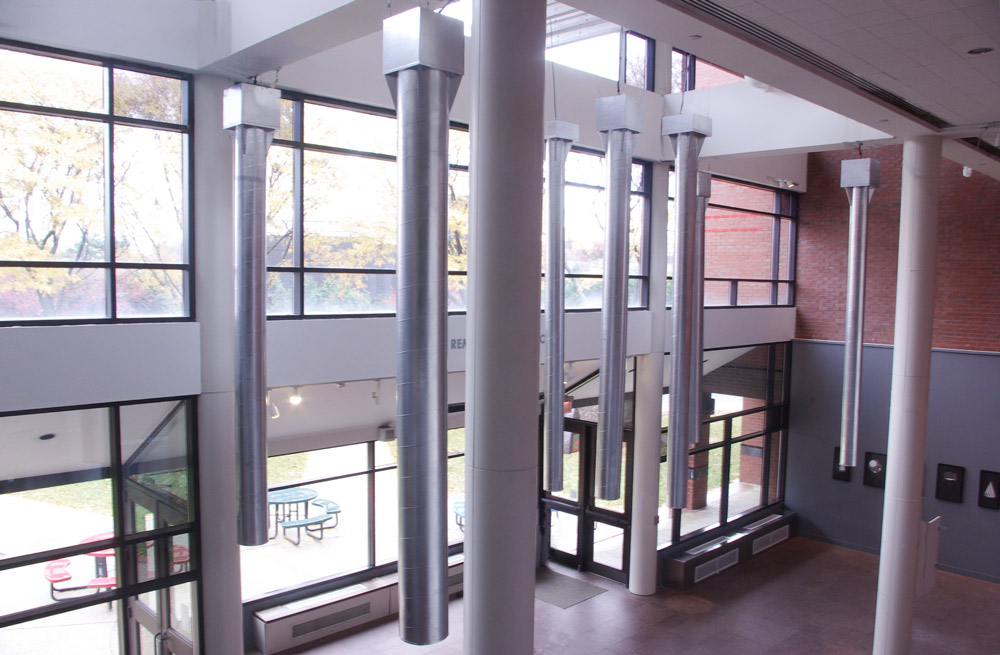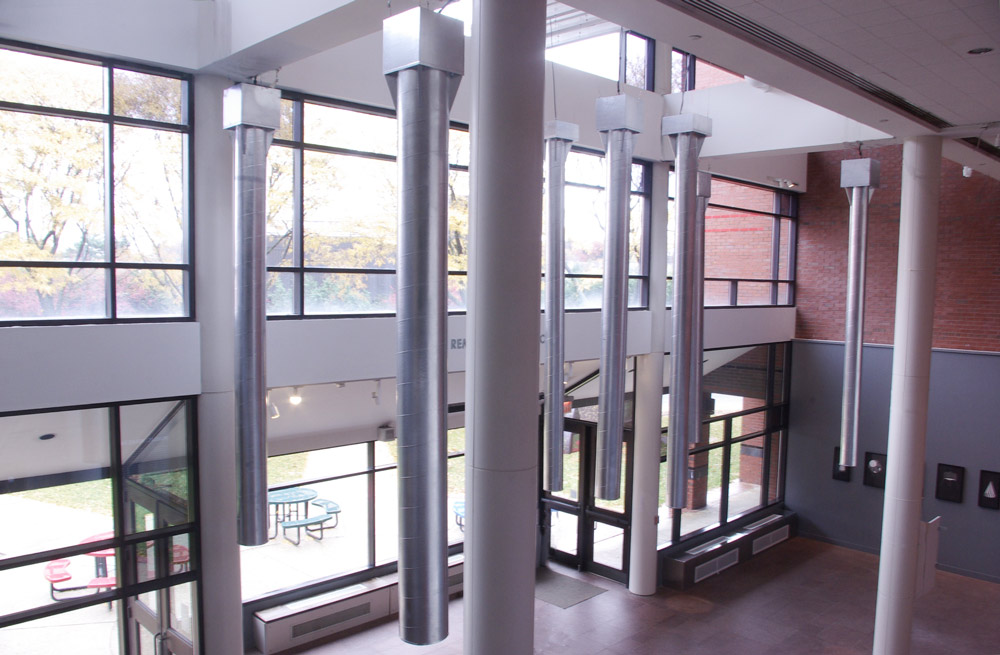 Recently:
Material Lamentations: Art, Grief, and the Land, Kathryn Schultz Gallery, Cambridge Art Association, Cambridge, MA, January 8 – February 2, 2019. Curated by Patricia Miranda and including work by Christine Aaron, Beth Dary, Katherine Jackson, Michelle Lougee, Heidi Neilson, Melissa Potter and Maggie Puckett, Julie Poitras Santos, Deanna Witman.
Joseph Dalton, "Where audio agrarians reap a harvest for ears," Albany Times Union, December 20, 2018
Allison Meier, "New York City and Its Connections to the Moon," Hyperallergic, December 14, 2018
City as Ecosystem: NYC Urban Field Station Artists' Residency, exhibition at The Arsenal Gallery, Central Park, 830 Fifth Ave at 64th Street, Third Floor, New York, NY. Includes work by artist residents: Katie Holten, Matthew Jensen, Mary Mattingly, Lize Mogel, Heidi Neilson, Adam Stoltman. September 13 – November 23, 2018, Opening reception Wednesday September 12, 6-8pm.
Artist Talk – City As Ecosystem: NYC Urban Field Station Artist Residency, Tuesday October 23, 2018, 6-8pm.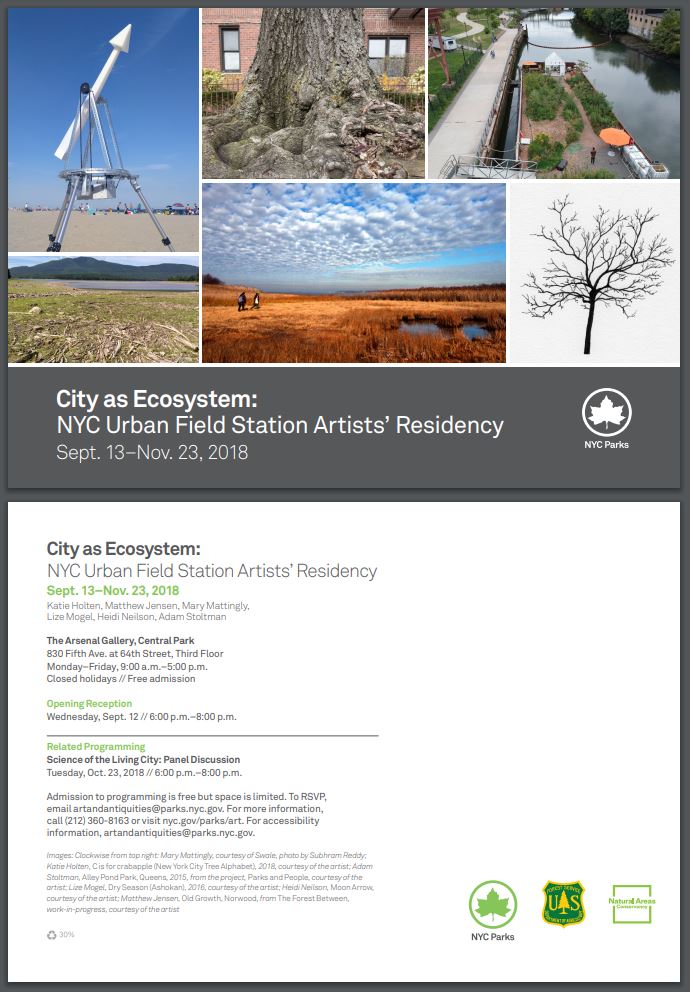 Go GOES Radiotelescope on view at Tufts University, Outdoor Plaza in front of Aidekman Arts Center, with TuftsPUBLIC / Heidi Neilson Artist Talk, Thursday September 27th, 12:15 pm.
Moon Arrow on exhibit at World Maker Faire New York, New York Hall of Science, Queens, New York, September 22 & 23, 2018
Awarded 2018 New York State Council on the Arts in Partnership with Wave Farm: Media Assistance Fund (MAAF) Grant for Sonic Planetarium
Artist Roundtable Talk and Reception, 'Our Anthropocene: Eco Crises,' Friday March 2, 2018, 6:30 pm, The Center for Book Arts, NYC
Atlas of Punctuation included in VOLUMINOUS ART: Treasures from San Diego's University Libraries, San Diego, CA, March 10-September 3, 2018
Panelist, History of Art Lecture Series: Nature as Tool and Material, Panel 1, Color and Geography, Friday March 23, 2018 6:30pm, The Center for Book Arts, NYC. Talk on use of color in satellite imagery
Guest Artist & Presenter, Center for Integrated Media, CalArts, Valencia, CA. Installation "Sonic Planetarium," and workshop, "Software Defined Radio for Artists" in the speaker series, 'Conversations on Technology, Media and Practice,' January 22-27, 2018. —interview video on viralnet-v4-net—
Beachball Antennas included in Our Anthropocene: Eco Crisis at The Center for Book Arts, NYC, January 19 – March 31, 2018
2018 New Work Grant, Individual Artist Support, New York City Department of Cultural Affairs, Greater New York Arts Development Fund, in partnership with the City Council, Queens Council on the Arts, New York, NY
Artist-in-Residence at SPACES with solo exhibition Ground Station—Cleveland, November 17, 2017 – January 12, 2018
Ground Station – Cleveland exhibition reviews by Steven Litt, The Plain Dealer, "Spaces explores outer space with Heidi Neilson's 'Ground Station'" and SPACES Kid Art Review #10
Cloud Book Study included in The Art of Reading: From William Kentridge to Wikipedia, The Hague, Museum Meermanno, The Netherlands, November 18, 2017 – March 5, 2018.
Atlas of Punctuation included in Projects for the Page, Pacific Northwest College of Art, Center for Contemporary Art and Culture, Portland, Oregon, November 2, 2017 – January 12, 2018.