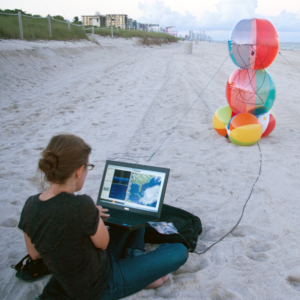 Heidi Neilson is an interdisciplinary artist interested in giving visual and sensible form to the connections between people on the ground and off-planet conditions and infrastructure. Her work includes, recently: the Menu for Mars Supper Club, a series of dinners envisioning Martian cuisine; SP Weather Station, where weather data-gathering instruments serve as a hub for various activities addressing earth's atmosphere; Long Island City Sundial, which characterizes the shadow of a lone skyscraper as a giant neighborhood-wide sundial; and Ground Station, a project documenting outer space art-research with regard to radio transmissions.
Her often collaborative and publishing-based work has been presented at The Drawing Center, the International Print Center New York, the Islip Art Museum, the Queens Museum of Art, the Bronx Museum of Art, and published in The Blue Notebook, Elephant Magazine, and Hayden's Ferry Review, among many others. Her work is included in over 60 museum and university collections. Heidi Neilson's activities have received support from organizations for presentations, production, publication, residencies, and travel, including: the Art Matters Foundation, the Bronx Museum of the Arts, the Center for Book Arts, the College Book Art Association, Elsewhere, Flux Factory, I-Park, the Kala Art Institute, the Klondike Institute of Art and Culture, the Lower Manhattan Cultural Council, the Lower East Side Printshop, New York City Department of Cultural Affairs, New York Foundation for the Arts, Oregon College of Art and Craft, Provisions Library, the Puffin Foundation, Queens Council on the Arts, Visual Studies Workshop, Wave Farm, and Women's Studio Workshop.
Born in Oregon, Heidi Neilson received a BA in biology from Reed College and an MFA in painting from Pratt Institute, and lives and works in New York.
Contact
email: hn (at) heidineilson (dot) com or use this form